thanks – 1.grateful feelings or thoughts; gratitude 2. an expression of gratitude
As this Thanksgiving Day approaches, I want to make an intentional effort to stop and express my gratitude to God for the thousands of blessings He has filled my life with. I think it is unfortunate that in our society this holiday is now often seen simply as a day for great football games, a precursor to great shopping deals on Black Friday, or even a hurdle to cross over to the Christmas season. America is the land of opportunity and a nation that was founded upon Christian principles(one of the reasons why, in my opinion, this nation is so abundantly blessed), and I think we do a disservice to gloss over this day to humble ourselves with gratitude towards our Creator. So, with that being said, I am going to take a moment to highlight a handful of the many, many things in my life I am thankful for.
1. Jesus Christ - I cannot even wrap my brain around the fact that He paid the ultimate sacrifice on my behalf. Time and again I have turned away from Him and yet He repeatedly takes me back. I am forever changed because of Him, and oh how I look forward to spending eternity with Him.
2. My husband, Troy – It's hard to believe it has been 10 years since God brought Troy into my life. He is a Christ follower, Spiritual Leader, loving husband, amazing dad, great provider, has a huge heart for the orphan, and I wouldn't want to journey this path of life with anyone else. I am blessed!
3. My children – I don't know where to begin..God has been so good to me. Troy and I have a beautiful three year old son who is healthy, all boy, and completely full of life. We also have a beautiful daughter in Ethiopia that God is going to introduce us to in His perfect timing. Both our son and our daughter have completely captured our hearts and we are eternally grateful that God chose us to be their parents.
4. Family – Yes, I know that #2 and # 3 are family too, but I am referring to my siblings, parents, and in-laws here. Even though all of our family lives out of state, we keep in close contact and they have been so supportive of Troy and I in every area of our lives. A highlight of the Holidays for me is reconnecting, in person, with family.
5. Friends – I can't say enough about the friends God has placed in my life. Some are lifelong and some are only for a season, but nonetheless, I am grateful for each and every one of them.
6. Church – During 2010, Troy and I felt that God was leading us in a different direction than our current church was going in. We prayed a lot about it, and we ultimately made the decision to begin seeking out a new church at the beginning of 2011. We found our new church home in March, and God has confirmed over and over that it is where we are meant to be at this season of our lives. We have been loved, strengthened, encouraged, and supported in this new church and I am so grateful we were obedient to God's calling.
7. Military – I don't have enough words to express my thanks for the many lives that have been lost on behalf of my freedom. I do not take for granted the many sacrifices that continue to be made on a daily basis by our men and women in uniform. I pray that future generations will never to cease to remember that the freedoms we have here in America did not come without a great cost.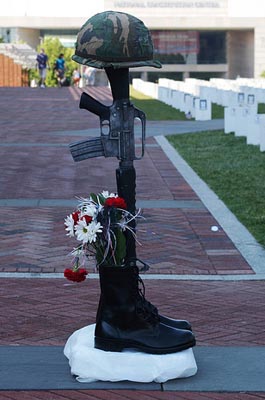 8. Ethiopia – God has placed a great love for this country in my heart. It is the birthplace of my children, but it is also a place filled with beautiful people. I pray that daily that God will pour out His richest blessings upon Ethiopia
9. My job(s) – I am so blessed to have a job that I love doing so that it doesn't even feel like work. I get to work with precious children every day, and I have great co-workers. I do my 'career' job two days a week and my other job is staying home with Silas. I am so grateful that we are in a position for me to be able to do that as I wouldn't trade the precious days I get to spend with my boy for anything.
10. Good health – As I get older, I appreciate more and more the blessing of good health…not only for me but also for my family. I have various friends whose children have had serious health concerns lately, and I have friends my age who are battling serious illnesses. I take comfort in knowing that God is in control, but I am grateful for His mercies in this area of my life.
That sums up my top ten for now. God has been so very good to me, and I am humbled that he continues to pour out His blessings upon me. I pray that each of you will take a moment this Thanksgiving to thank Him for all He has done in your life. May you have a safe and Happy Thanksgiving!
We give thanks to You, O God, we give thanks! For Your wondrous works declare that Your name is near. Psalm 75:1